Toll Free: 800.501.6020 | Phone: 870.231.6020

Equipment and Services
OPTIMIZE YOUR VAN TRUCKLOAD SHIPMENTS AS NOBODY ELSE CAN
Whatever the scope of your business, Woodfield, Inc. gives you unrivaled access to effective solutions. As transportation experts with more than 30 years of experience and hundreds of ongoing customers, we know the best ways forward and can help you find answers for today and tomorrow. That's the Woodfield Way.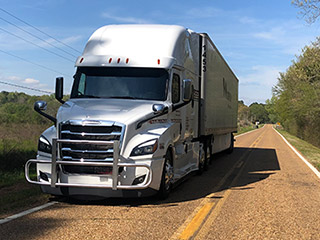 LONG-HAUL DRY VAN SHIPPING
When your truckload freight has miles to ride, count on Woodfield's dry van service to get the job done right. Woodfield, Inc. is staffed with 130 drivers, along with 300 trailers, giving you ready access to capacity and our 99% on-time delivery means that you will never be looking for freight.
Our drivers are also second to none: Most of our drivers and driver support have been with us for over 5 years with more than 50 drivers claiming over 1 million miles and several with 2 and 3 million.

REGIONAL AND OVER THE ROAD FLATBED TRUCKLOAD
Whether it's lumber or coils, or anything in-between, look no further than Woodfield, Inc. for all your flatbed needs. Our upgraded equipment and Conestoga (roll tarp) systems ensure that your load gets to its destination safely and without interference from the weather, and our stringent hiring requirements, and drivers attention to detail ensure top quality service.
In Woodfield, you will find a dedicated account team that will work together to meet even the most difficult deadlines, and will go the extra mile to drive home success!


Drive for a family operated company that cares about you! Woodfield, Inc. is taking applications.
Click here for more information »